02nd game day - Virtual Season
Posted on January 9, 2022
The 01. RFC Berlin is participating in the 01st Humanoid League - Virtual Season (HL-VS) event ever!
This is a pure virtual competition allowing for regular games between the teams. In total 08 teams are participating from around the world. We play in a round robin mode on a bi-weekly mode (every second weekend). The games are streamed here https://www.twitch.tv/robocuphumanoidfielda.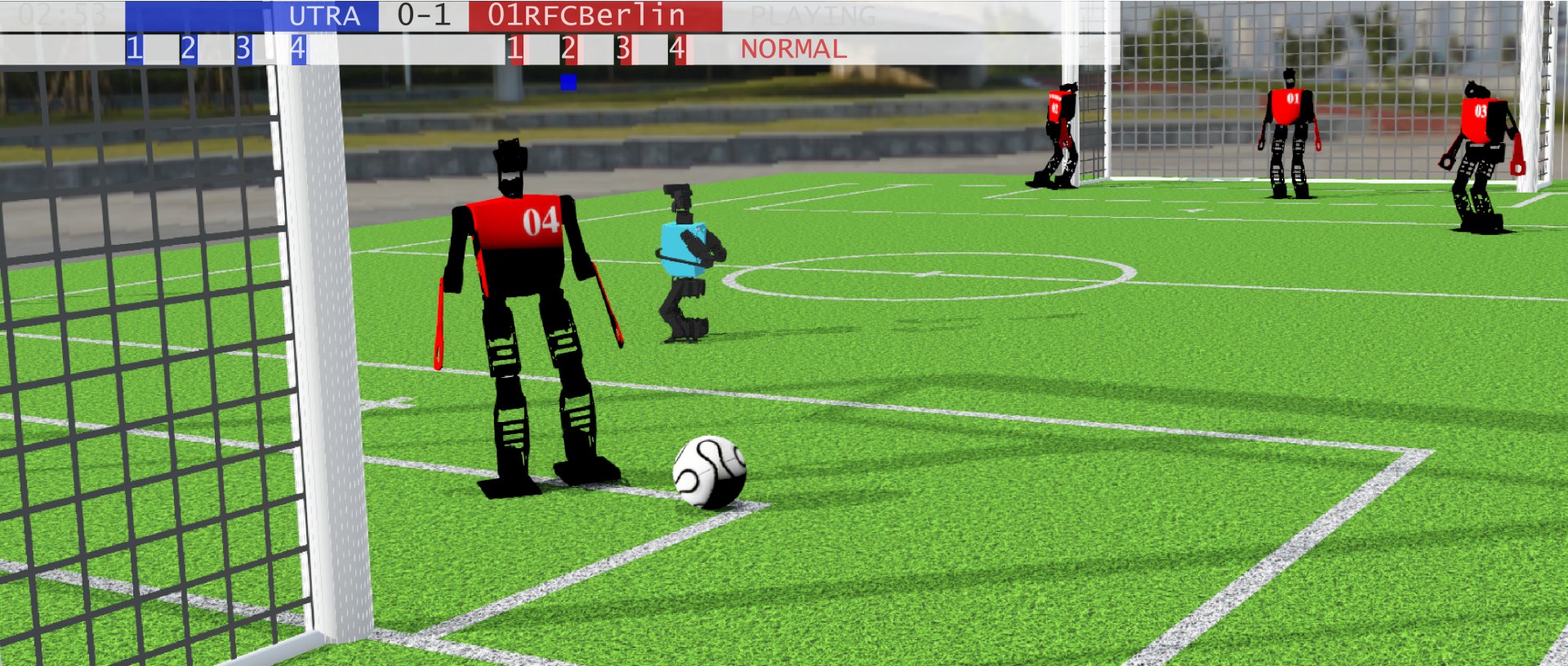 Our robots have today finished the second game. The first game was played on the 19th of December against NUbots. We managed to win 00:10. The second game was played on the 09th of January against UTRA. This was a lot more challenging because the simulator setup has changed. Different ball, stadium and lighting setups are being picked at random at the beginning of each game day. This wide range of settings gave our robots huge trouble detecting balls in close proximity. Also, it resulted in some amusing situations in which our robots and the goal poles got a little too intimate. Anyways, our robots had a tough time moving the ball forward. At the end we managed to win with our namesake's score of 00:01.
Thanks to NUbots and UTRA for the good games!
Our next match is on 23. January 2022 in the afternoon. Watch us live on: https://www.twitch.tv/robocuphumanoidfielda The official game schedule can be found here: https://humanoid.robocup.org/hl-vs2022/humanoid-league-virtual-season-2021-22/
The full table after the second tournament day:
| Rank | Name | Pts | W | D | L | Goals | Diff |
| --- | --- | --- | --- | --- | --- | --- | --- |
| 01. | Starkit | 6 | 2 | 0 | 0 | 18:0 | +18 |
| 02. | CIT Brains | 6 | 2 | 0 | 0 | 17:0 | +17 |
| 03. | Bit-Bots | 6 | 2 | 0 | 0 | 14:2 | +12 |
| 04. | 01. RFC Berlin | 6 | 2 | 0 | 0 | 11:0 | +11 |
| 05. | MRL-HSL | 0 | 0 | 0 | 2 | 2:9 | -7 |
| 06. | UTRA | 0 | 0 | 0 | 2 | 0:13 | -13 |
| 07. | ITAndroids | 0 | 0 | 0 | 2 | 0:19 | -19 |
| - | NUbots | 0 | 0 | 0 | 2 | 0:19 | -19 |