Blown away
Posted on February 6, 2022
You win some, you lose some 00:12.
The search for the ball of our robots continues. Roughly 3-4 times you can spot our robots detecting the ball and attempting to approach it. But not more than that. Our opponent Starkit (Russia) played an incredible game. They passed the ball around our dancing robots with an amazing precision. At the end we lost the game with devastating score of 00:12.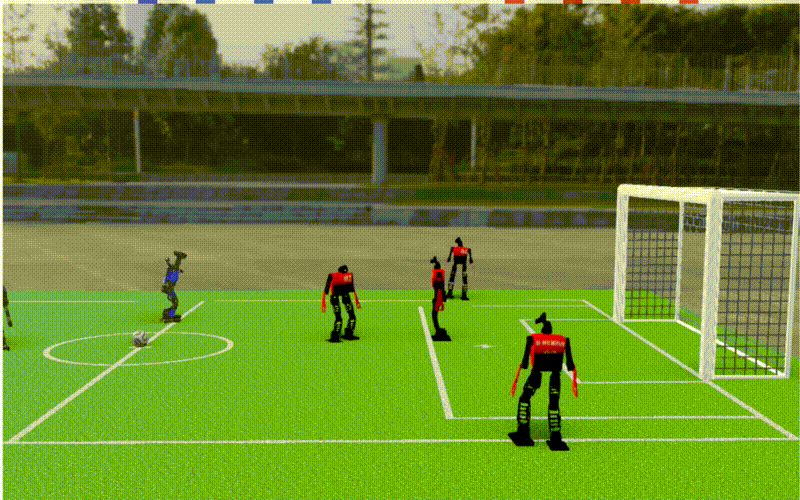 Thanks to Starkit for the game.
The ball is in our court now (wink, wink): We will be working tirelessly on our ball detection to be up for our next opponent; the BitBots from Hamburg. We will go down in flames.
The match is on the 20th February 2022 in the afternoon. Watch us live on: https://www.twitch.tv/robocuphumanoidfielda The official game schedule can be found here: https://humanoid.robocup.org/hl-vs2022/humanoid-league-virtual-season-2021-22/
The full table after the fourth tournament day:
| Rank | Name | Pts | W | D | L | Goals | Diff |
| --- | --- | --- | --- | --- | --- | --- | --- |
| 01. | Starkit | 12 | 4 | 0 | 0 | 41:00 | +41 |
| 02. | Bit-Bots | 12 | 4 | 0 | 0 | 28:02 | +26 |
| 03. | CIT Brains | 10 | 3 | 1 | 0 | 29:00 | +29 |
| 04. | 01. RFC Berlin | 7 | 2 | 1 | 1 | 11:12 | -1 |
| 05. | MRL-HSL | 6 | 2 | 0 | 2 | 14:09 | 5 |
| 06. | UTRA | 0 | 0 | 0 | 4 | 00:30 | -30 |
| 07. | NUbots | 0 | 0 | 0 | 4 | 00:34 | -34 |
| 08. | ITAndroids | 0 | 0 | 0 | 4 | 00:36 | -36 |