Dancing with the Stars
Posted on January 23, 2022
The dancing and the standing. Game against CIT Brains (Japan).
The game against CIT Brains was played directly in front of the "Bundeskanzleramt" in Berlin. It was clear that this home match will not be easy at all, but it took an unexpected turn. The game begun with our robots positioning on the field while CITs robots didn't move at all. Our opponent has submitted non functional software causing their robots to idle over the entire game. While this should have been our chance, our robots decided to play it nice and - due to some problems in the vision calibration - decided to perform a little dance instead of participating in the soccer match.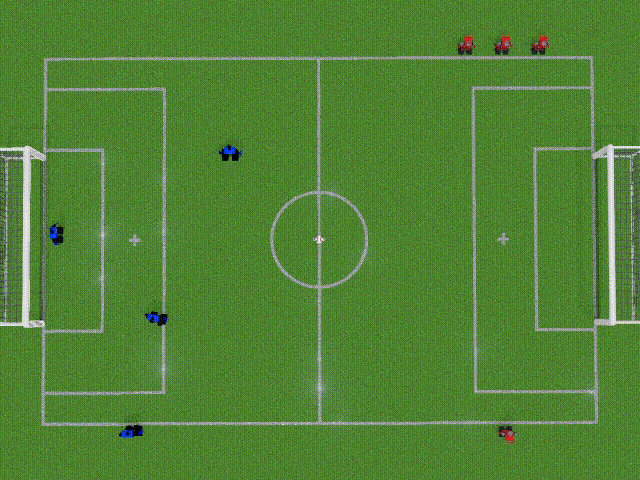 All in all the game ended in an unspectacular draw of 00:00.
Thanks to CIT Brains for the game.
Our next match is on 06th February 2022 in the morning. Watch us live on: https://www.twitch.tv/robocuphumanoidfielda The official game schedule can be found here: https://humanoid.robocup.org/hl-vs2022/humanoid-league-virtual-season-2021-22/
The full table after the third tournament day:
| Rank | Name | Pts | W | D | L | Goals | Diff |
| --- | --- | --- | --- | --- | --- | --- | --- |
| 01. | Starkit | 9 | 3 | 0 | 0 | 29:0 | +29 |
| 02. | Bit-Bots | 9 | 3 | 0 | 0 | 22:2 | +20 |
| 03. | CIT Brains | 7 | 2 | 1 | 0 | 17:0 | +17 |
| 04. | 01. RFC Berlin | 7 | 2 | 1 | 0 | 11:0 | +11 |
| 05. | MRL-HSL | 3 | 1 | 0 | 2 | 7:9 | -2 |
| 06. | UTRA | 0 | 0 | 0 | 3 | 0:24 | -24 |
| - | ITAndroids | 0 | 0 | 0 | 3 | 0:24 | -24 |
| 08. | NUbots | 0 | 0 | 0 | 3 | 0:27 | -27 |