Games against Bit-Bots and MRL.
Posted on March 9, 2022
We have to discuss some politics and want to tell you about our 6th game day.
The sixth game day has approached. We also played our canceled game from last game day against the Bit-Bots.
World Politics
There is an elephant in the room which needs to be addressed: We, the 01. RFC Berlin, condemn war and violence. The autonomous and robotic systems we are all researching and developing are meant for peaceful use and we distance ourselves from any use as weaponry. The current Russian invasion of Ukraine has lead the Russian team Starkit to pause all activities in the RoboCup league and withdraw from the current Virtual Season. We hope to be able to welcome Starkit back in our league soon. We support all research that opposes war and violence. We are convinced that science should serve the well-being of all people and provide for a peaceful, better together. In this context, we stand by all peaceful scientists, especially those in Russia, who cannot speak up freely and are even threatened with serious consequences.
Considering the league, all games against Starkit have been annulled and are not being counted. Shrinking the league to 7 teams.
Game Against Bit-Bots
Finally, the exciting German derby Bit-Bots against 01. RFC-Berlin has been played. Let us give you a short review:
04:09 - 01:00 Bit-Bots goes into the lead
04:41 - RFC Goalie stops participating for the rest of the game
10:00 - Half Time
12:48 - 01:01 RFC scores
16:42 - 01:02 RFC is taking the lead
18:44 - 02:02 Bit-Bots bringing the score back to parity
20:00 - End of Game
In the end our robots played an unexpectedly good game. This shows that our new ball detection performance is much better.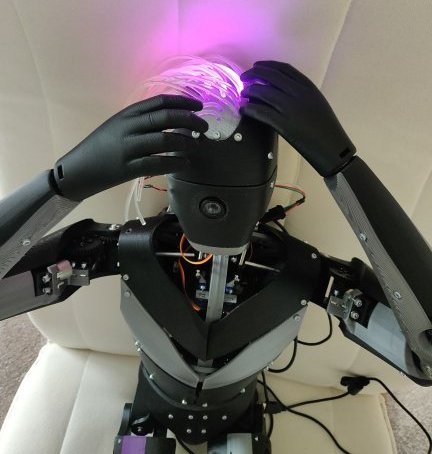 Thank you Bit-Bots for this awesome game! This was so much fun to watch.
Game against MRL
The second game was part of the sixth game day. We played against MRL (Iran). MRL has super powerfull kicks and extremly fast running robots. We stood no chance. On top of this, their robots have a white shell which leads to our robots accidently detecting their robots as balls.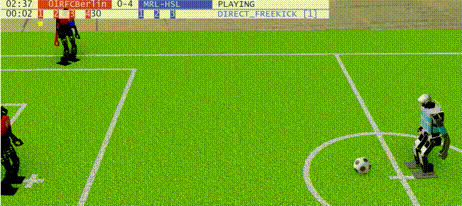 You can also see that our goalie became quite nervous and doing a lot of jumps.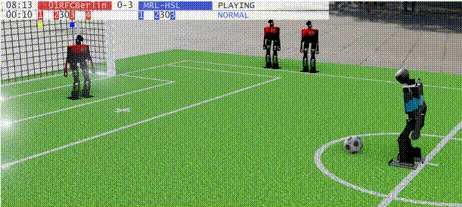 In the end we lost 00:04 against MRL. A shoutout to MRL for playing with us! It was an exciting match!
Next Match
Our next match against ITAndroids (Brazil) will be on the 20th of March 2022 in the afternoon. Watch us live on: https://www.twitch.tv/robocuphumanoidfielda The offical game schedule can be found here: https://humanoid.robocup.org/hl-vs2022/humanoid-league-virtual-season-2021-22/
The full table after the sixth tournament day:
| Rank | Name | Pts | W | D | L | Goals | Diff |
| --- | --- | --- | --- | --- | --- | --- | --- |
| 1. | CIT Brains | 13 | 4 | 1 | 0 | 37:00 | +37 |
| 2. | Bit-Bots | 13 | 4 | 1 | 0 | 30:04 | +26 |
| 3. | MRL-HSL | 12 | 4 | 0 | 2 | 24:10 | +10 |
| 4. | 01. RFC Berlin | 8 | 2 | 2 | 1 | 13:06 | +07 |
| 5. | ITAndroids | 2 | 0 | 2 | 3 | 01:28 | -27 |
| 6. | UTRA | 1 | 0 | 1 | 4 | 01:25 | -24 |
| 7. | NUbots | 1 | 0 | 1 | 4 | 01:34 | -33 |